If you're looking to practice your photography skills or find the best Instagram spots, Dallas-Fort Worth has no shortage of ideal locations. You can find beautiful street art murals all over the city, quirky art installations, and plenty of natural beauty. Here's a look at nine of the most photographable backdrops in Dallas-Fort Worth.
Deep Ellum Murals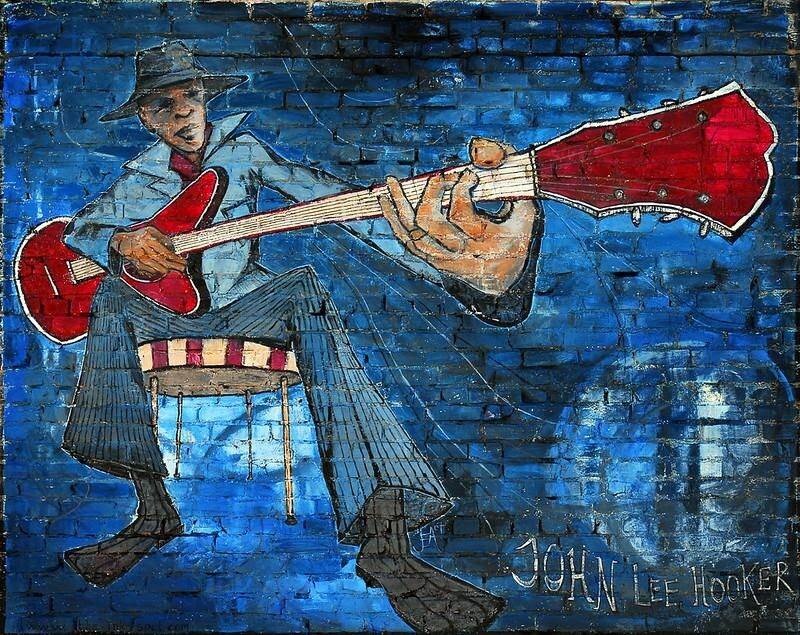 Image via Flickr by crowt59
The Deep Ellum Murals consist of more than 50 different murals that were created as part of a special project. The idea was to showcase local, national, and international talent by having artists paint these murals on some of Deep Ellum's historic buildings. Many of the pieces are Texas-inspired, while some pay tribute to deceased icons or creative arts.
The Dallas Morning News has an online map to help you find the mural you're looking for. With over 50 to choose from, you're sure to find the perfect photo backdrop here.
Catching the perfect time to photograph these murals will depend on which ones you want to visit as they face different directions, so the sunlight will vary. The blog Cute and Little has recommendations on when to go for 10 of the Deep Ellum murals.
The Traveling Man
You'll want a wide-angle lens to best capture The Traveling Man sculpture. There are actually three sculptures in the installation, which tell the story of a giant robot. The series represents the robot's journey from awakening to life. Artists Brandon Oldenburg and Brad Oldham are the masterminds behind the three-part sculpture series.
The first sculpture, Awakening, only has the top half of the robot's head rising from the ground. This is to represent waking from his underground slumber. It is located on Elm Street and Good Latimer.
The second sculpture is Waiting on a Train, where he's fully emerged and has a guitar in his hands. This one is located on Elm Street and Good Latimer.
The last sculpture, Walking Tall, is the tallest and stands about 40 feet tall. It's a beautiful sculpture and the perfect backdrop for photos, especially at sunset. It is located at Good Latimer and Swiss Avenue.
Japanese Garden at Fort Worth Botanic Garden
Completed in 1973, the Fort Worth Japanese Garden is filled with multiple spots that make for the perfect photography backdrop. Japanese maple trees, cherry trees, bamboo, and magnolias fill the 7.5-acre garden. The ponds have over 1,200 koi fish. The best time to visit is in spring when the flowers are blooming. Fall is also a beautiful time when the leaves are changing.
Note that the Fort Worth Botanic Garden has a photography policy. You can take casual photos (no tripod) for personal use, but you need to apply and pay the fee if you are planning a special photo shoot or using the photos for commercial use.
Dallas Arboretum and Botanical Garden
The Dallas Arboretum and Botanical Garden has received numerous awards and been named among the world's top arboretums. It's located on the shores of White Rock Lake, another scenic photography spot.
Unlike the Japanese Garden, there are year-round blooms with dozens of lush landscapes. You're bound to find more than one ideal backdrop. There are plenty of lighting options, as well, including open and bright, shady, and understated. If you need inspiration, the Dallas Arboretum has a blog post, Do it for the 'Gram: 6 Photo-Ops You Can Old Get at the Dallas Arboretum.
Fort Worth Stockyards
Grab your camera and step back in time at the Fort Worth Stockyards. If you're looking for an old-timey or Western background, this is your spot. The Fort Worth Stockyards is a historic 98-acre district home to cowboys and outlaws. Walk along saloons and historic buildings to find the best photo backdrop. If you want cattle in your photos, there are real cattle drives at 11:30 a.m. and 4 p.m. every day.
Fort Worth Water Gardens
Three large fountains make up the Fort Worth Water Gardens, perfect for photos any time of the year. Located next to the Fort Worth Convention Center, the fountains date back to 1974. They were designed by Philip Johnson and John Burgee, renowned architects from New York.
Consider visiting towards the evening when the lights are on. Use a long exposure to turn the water into silky water cascades. Be advised some areas of the water gardens may be closed due to COVID-19.
Mockingbird Pedestrian Bridge
The Mockingbird Pedestrian Bridge spans Mockingbird Lane east of Central and connects Katy and White Rock trails. The bridge was added because the street was dangerous for pedestrians, but it's also a great photo backdrop. Avoid peak commute times to reduce the number of people on the bridge.
West Village Murals
If you want more Instagram-worthy murals, the ones in West Village are also great photo backdrops. Some people prefer the murals here as they are in the parking garage and are situated, so there is no parking in front of them. With Deep Ellum, you sometimes have cars blocking the murals. Bring a wide-angle lens so you can capture the whole mural without worrying about any vehicles in the garage.
One of the most popular murals is the 3-D cube design called Super Deluxe, created by Dallas artist Ricardo Paniagua in 2016.
ShangriLlama
About 40 minutes from Dallas is Royse City, home to a family of royal llamas and a replica Irish castle. Here you can cozy up with one of the fuzzy llamas at ShangriLlama. Make a reservation for a llama lesson or a llama walk. Llama walks are only seasonal and take place from November through April. Llama lessons are available year-round.
Sharon and Paul Brucato own ShangriLlama. They named it after the Himalayan utopia in the novel "Lost Horizon." Book a lesson or a walk and get an educational look at everything that makes llamas so special.
Which of these Instagrammable spots in Dallas-Fort Worth are your favorites? Do you have any other ones you think we should add? Contact us at
Hiley Subaru of Fort Worth
to share your recommendations so we can add them to our list.