If you're in or around Fort Worth and looking for a roomy, fuel-efficient SUV to take off-roading on the weekends, head over to Hiley Subaru of Fort Worth and ponder the performance, comfort, and technology of the 2021 Subaru Ascent. Or perhaps you're considering the smaller 2021 Kia Telluride? Here's a point-by-point comparison of these popular SUVs!
Trim Levels and Price Tags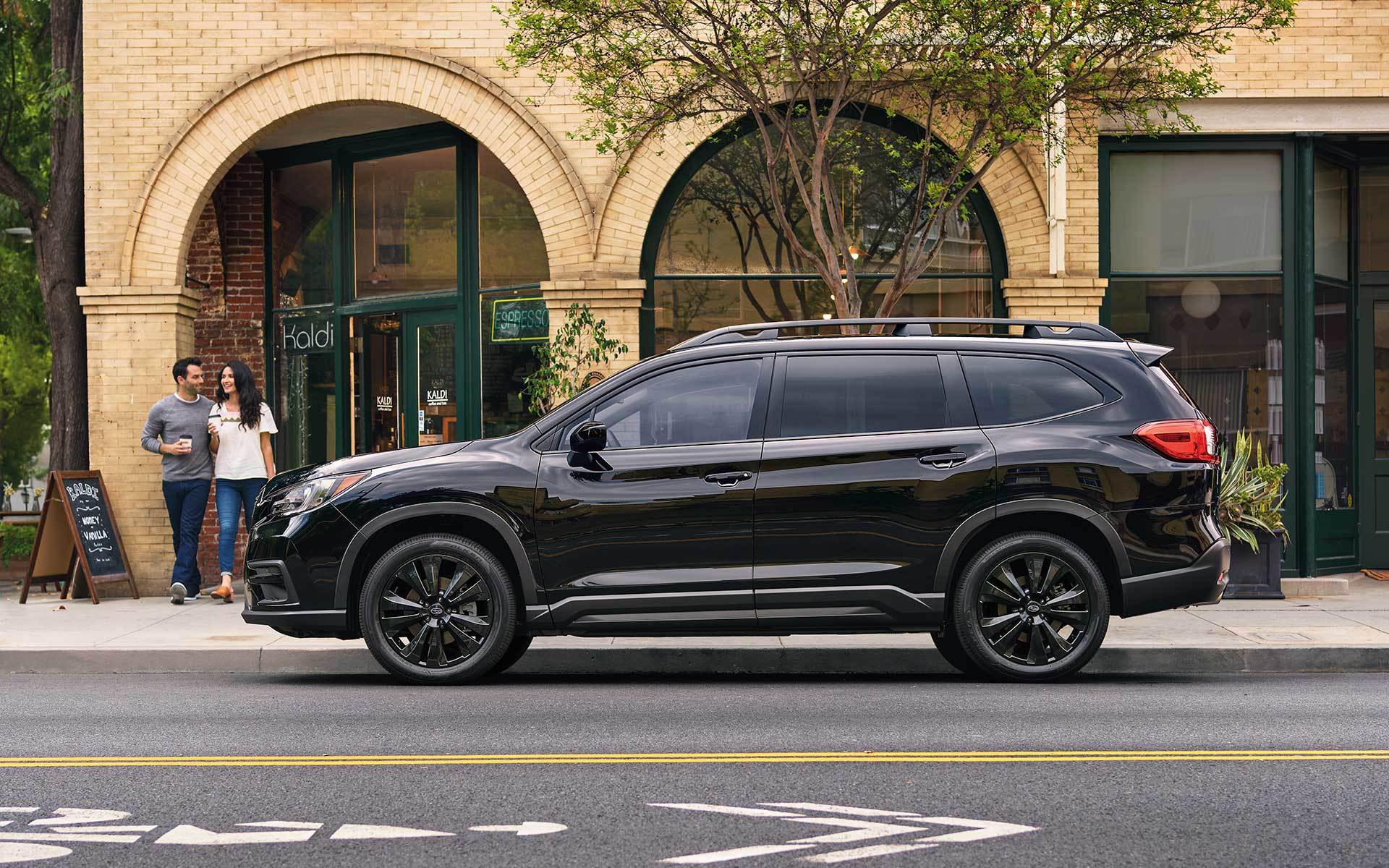 The 2021 Subaru Ascent comes in four trim levels with variations of two trims for a total of six trims! The base Ascent seats eight with two rows of bench seating, the midrange Premium and Limited seat eight with standard configuration or seven with optional second-row captain's chairs, and the top-tier Touring comes with standard second-row captain's chairs and seats seven. Prices range from $32,295 to $45,445.
The 2021 Kia Telluride is only available in four trims — the LX, S, EX, and SX — and prices range from $31,990 to $42,190.
Exterior
The Subaru's sloping hood, rakish windshield, and prominent rear spoiler gives the Ascent a sporty look, while the fender flares and roof rails add to its outdoor appeal. In contrast, the boxy shape, upright front end, and muscular lines of the Telluride lend it an imposing air.
Power
No matter which Ascent trim you choose, you'll get a 2.4-liter turbo 4-cylinder that puts out 260 hp, paired with a continuously variable transmission (CVT) for smooth acceleration and more-than-enough power for your daily commute and for long-distances. On the other hand, the Kia Telluride is equipped with a 291-hp, 3.8-liter V-6 engine paired with an 8-speed automatic transmission and yields quite a bit more power.
Maximum towing capacity for the Ascent varies by trim level: The base model maxes out at 2,000 pounds, while the other trims can all tow up to 5,000 pounds, but may require trailer brakes. All the Telluride trims have 5,000-pound maximum towing capacity.
Handling
The Ascent's narrow body and power steering make it surprisingly nimble, whether you're maneuvering into a tight parking space or along congested streets. The CVT and double-wishbone rear suspension ensure a smooth ride, and this Subaru model has a maximum 8.7-inch ground clearance and standard with AWD and Subaru X-Mode with Hill Descent Control, making it more-than-capable of going off-road.
Thanks to its longer wheelbase and multilink rear suspension, the Telluride maintains its composure over uneven surfaces and city streets. Unfortunately, the wider-bodied Telluride also has a larger turning radius, so it's tricky to maneuver in tight spaces, and the Kia's 8-inch ground clearance won't handle off-road conditions as well as the Subaru.
Fuel Economy
Steady speeds from the Ascent's CVT means no wasted gas! The Ascent has respectable fuel economy — 21 mpg in the city, 27 on the highway, and 23 combined — which is awfully close to the Tulleride: 20 mpg in the city, 26 highway, and 23 combined.
The Ascent's standard AWD, a known gas-guzzler, make its fuel efficiency noteworthy. Optional AWD decreases the Telluride's fuel efficiency to 19 city, 24 highway, and 21 combined. Compared to the Ascent's consistent 21, 27, 23, and considering rising fuel costs, the little differences start to add up.
When you then reconsider the fuel-efficient CVT and turbo-charged 4-banger vs. the Telluride's standard transmission and V-6, the Ascent's exceptional fuel efficiency is clear.
Interior
The Ascent and Telluride both have 7- and 8-seat configurations, with second-row captain's chairs in the 7-seaters, but the Ascent's 60/40 flat-folding second- and third-row bench seats are more versatile than the Telluride's lone third-row 70/30 split-bench seating.
Ascent drivers and front-row passengers enjoy a little extra legroom, and the Telluride has nearly 4 inches of extra second-row legroom. Both have nearly identical headroom, just over 41 inches in the front and right at 40 inches in the rear.
The Kia's standard simulated-leather seats — and Nappa leather seats in the SX Limited! — denote luxury, but the Subaru's stain-resistant upholstery is practical and durable for those with kids.
Finally, all Ascents come standard with tri-zone climate control for each row of seating, making it ideal for families, but only the Telluride EX has this feature.
Cargo Space
If you tend to transport a lot of stuff, both SUVs offer reasonable storage space. The Ascent has 17.8 cubic feet of storage space behind the rear seats, 47.5 cubic feet with a folded-down back row, and 86.5 cubic feet with both rows down. Here, the Telluride's larger body pays off with 21, 46, and 87 cubic feet, respectively.
Infotainment Features
The Ascent comes standard with up to eight USB ports and the STARLINK infotainment system, which integrates your smartphone, smart navigation, Apple CarPlay and/or Android Auto, and a 6.5- or 8-inch touch screen display.
The Telluride comes standard with everything in the Ascent except an HD radio and only six USB ports, but it boasts an 8- or 10.25-inch touch screen and the much-loved Driver Talk, which magnifies the driver's voice to back-seat passengers.
Safety
While the National Highway Traffic Safety Administration awarded an overall 5-star safety rating to both the 2021 Ascent and the 2021 Telluride, a closer look reveals Subaru's perfect 5-star ratings for frontal and side crashes and four stars only for rollover resistance, while the Telluride faltered at four stars in both frontal crashes and rollover resistance.
Both come with standard back-up cameras, lane-departure warnings, lane-keep assistance, ABS and Brake Assist, tire-pressure monitoring, stability and traction control, and an array of air bags, plus adaptive cruise control and steering-wheel audio controls to keep your hands on the wheel and your eyes on the road.
The Ascent also comes with Subaru-specific features, like steering-responsive headlights with automatic high-beams and Subaru Eyesight, which monitors the road and looks out for possible hazards. On top of everything else, the Telluride also comes standard with rear-parking assistance and blind-spot monitoring.
While the 2021 Subaru Ascent and 2021 Kia Telluride are neck-and-neck in many categories, the Ascent edges out the Telluride in most categories. If you can see yourself behind the wheel of a Subaru, contact us at Hiley Subaru of Fort Worth with any questions or to schedule a test drive, or stop in to talk to someone today!