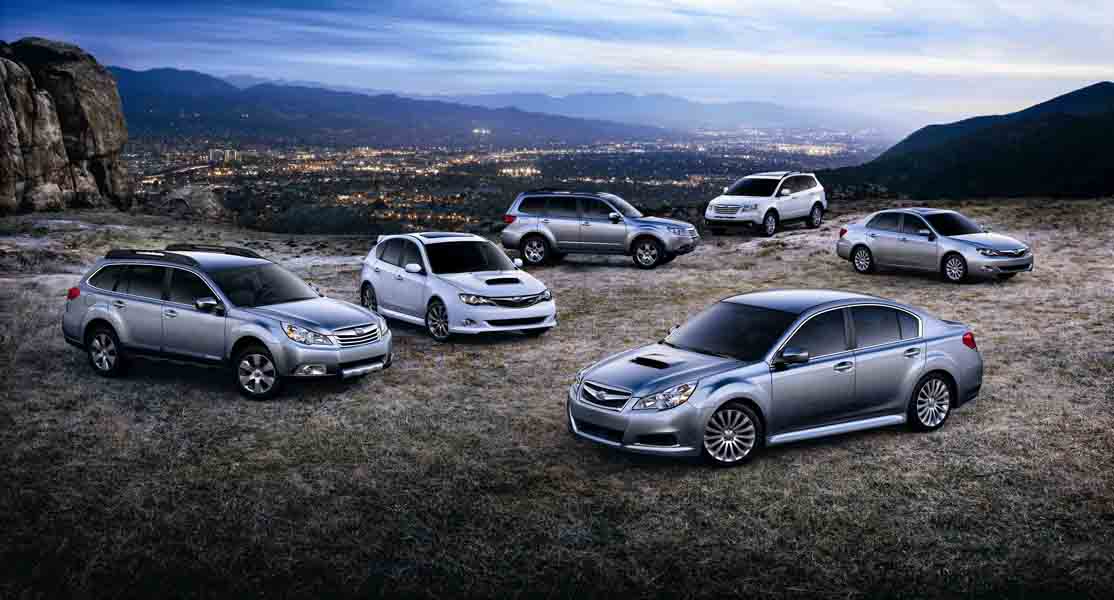 Do you want to drive the latest Subaru model without paying the full purchase price? Leasing puts you behind the wheel of the most innovative vehicles, all for an affordable monthly payment. When one lease is up, you can swap your vehicle for an even newer model without having to worry about selling or trading the old car. Leasing a Subaru is also a viable financial option since the monthly payments and down payments of a lease are usually lower than payments involved in purchasing a new vehicle.
What Is Leasing?
A lease is similar to a long-term rental. Like most rental agreements, you'll usually pay a certain amount at the signing of your agreement, as well as a set monthly payment, and the car will be yours for a set amount of months, as determined by the agreement. At the end of the agreed-upon time, you can either purchase the car or start a new lease. Your leased vehicle's monthly payment is calculated based on the vehicle's depreciation (the change between the car's current value and its value at the end of the lease) with interest and fees added on.
While all this may sound simple in concept, leases can feel complicated and intimidating. To help you better prepare to enter a lease agreement, here's everything you can expect to see:
The payment amount due at signing.
The length of the lease. Most leases last between two and four years.
The vehicle's current value and how much it will likely be worth at the end of the lease.
Any fees that you will pay at the end of the lease.
Termination fees if you decide to return the car before the end of the lease.
A yearly mile limit.
The lessor's definition of wear and tear, as well as any fees you'll pay if the vehicle is returned with excessive wear and tear.
The consequences of missing a lease payment.
In addition to being a formal record of your deal, a leasing agreement is designed to guarantee that the vehicle returns to the lessor in good condition so that it can be leased again or sold. Remember that while leasing allows you to enjoy the full benefits of a brand-new vehicle, you don't own the vehicle and should treat it as such.
The Vehicle Leasing Process
If you can accept the likely terms of a lease, then you're ready to start preparing to lease your dream vehicle. While the leasing process can be as simple as coming to our dealership, you can get the most out of the leasing process by preparing ahead of time. Here are some steps to take before coming to Hiley Subaru of Fort Worth:
Check your credit score. The higher the score, the more likely you'll qualify for a lease. A credit score between 620 and 679 is near ideal for approval, while somewhere between 680 and 739 is ideal.
Check your finances and determine how much you can afford for the down payment as well as how much you can pay each month.
Before deciding on a vehicle, test-drive a few makes and models to give yourself several potential options for leasing.
Consider your commute and other driving habits to determine whether you can reasonably stay within the lease's mileage cap.
With these factors in mind, you'll be better prepared to come to our dealership and walk through the lease agreement. The process will likely feel similar to other financial agreements you've experienced. Our team will assist you in every step of the process, from helping you find the right vehicle, to credit approval, to going over the agreement, and everything in between. Throughout the leasing process, we'll likely discuss several terms related to your agreement. Understanding these terms can help you prepare for this process, and help it go more smoothly:
Buyout price: You can end your lease at any time by turning from lessee to owner and buying the vehicle outright. This buyout price will likely decrease over time as the vehicle depreciates.
Capitalized cost: This is the initial price of the vehicle. It's sometimes shortened to "cap cost."
Cap cost reductions: If you trade in a car or pay a higher down payment, you may be able to reduce your cap cost, which may, in turn, reduce your monthly payments.
Disposition fee: At the end of your lease term, you may have to pay this fee to help cover the costs necessary to prepare the car for sale or for future leasing.
Gap insurance: This insurance covers the difference between a vehicle's residual value and what your insurance company would pay if the car were totaled.
Lease term: This refers to the length of the lease.
Mileage allowance: This is the number of miles you're permitted to drive each year. Most leases will allow you to only drive between 10,000 and 15,000 miles in one year to help keep down wear on the vehicle. The lease will also likely list any fees you may incur for driving over that limit.
Money factor: Otherwise known as the "lease factor," "lease rate," or "rent charge," the money factor is similar to an interest rate and affects your monthly payment.
Purchase option agreement: This is the amount for which you could purchase the vehicle at the end of your lease term.
Residual value: This refers to the vehicle's value at the end of the lease term.
Security deposit: Some leases require a security deposit that the lessor may use to cover damage to the vehicle. If you don't owe extra fees at the end of the lease term, your security deposit will be returned.
Lease Your Subaru from Hiley Subaru of Fort Worth
Leasing a vehicle should be an exciting process that leads to you leaving the dealership behind the wheel of your favorite new vehicle, breathing in that new-car smell. Here at Hiley Subaru of Fort Worth, we aim to make the leasing process as smooth as possible, and that dedication is reflected in our track record. As a J.D. Power Dealer of Excellence, we've proven that we consistently deliver high customer satisfaction, we're transparent and efficient, and we're committed to providing customers with an exceptional experience while at our dealership.
To streamline the leasing process, we've posted our lease offers online, so you can know the details of the lease agreement before leaving your home. And as you'll see while browsing those leasing offers, we can get you in the driver's seat of a brand-new, top-of-the-line Subaru today.
Stop watching with envy your favorite Subaru drive by. Check out our lease offers and come to Hiley Subaru of Fort Worth today.