The 2021 Subaru Love Promise Community Commitment Award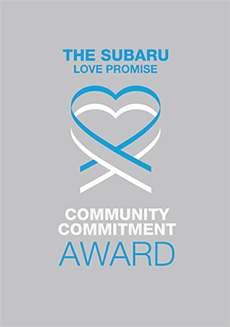 We've been nationally recognized for our dedication to our community and the Subaru Love Promise.
We're honored to receive the 2021 Subaru Love Promise Community Commitment Award. This award nationally recognizes Subaru retailers who are making the world a better place while demonstrating an outstanding commitment to supporting passions and causes in local communities. These efforts are focused in important areas such as the environment, community, health, education, and pets.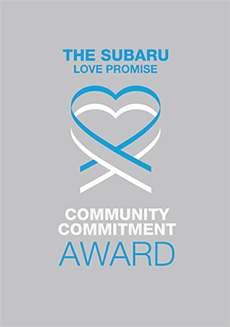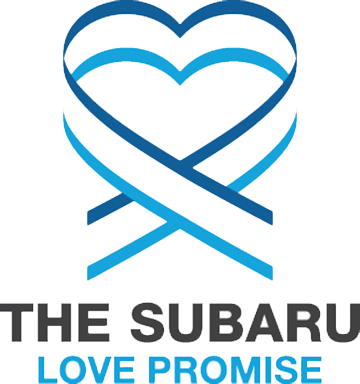 What is the Subaru Love Promise?
Subaru and our retailers believe in making the world a better place and the Subaru Love Promise is our vision of respecting all people. This is our commitment to show love and respect to our customers and to work to make a positive impact in the world.
How is Hiley Subaru of Fort Worth dedicated locally to the Love Promise?
Our Love Promise can be seen in various partnerships with local charities and non-profits. We're grateful for the opportunity, not only to be a part of our community, but to serve it as well.
Saving Hope Foundation, City of FTW Animal Shelter, MADE in TX Assistance Dogs, Humane Society of North TX
National Wildlife Federation, Botanical Research Institute of TX, TerraCycle®
Western Hills Primary, All Saints Episcopal School
Meals on Wheels of Tarrant County, Meals on Wheels of Johnson/Ellis Counties
Cook Children's Medical Center, Leukemia & Lymphoma Society of Fort Worth
Love Promise Stories from Hiley Subaru of Fort Worth
Subaru and Hiley Subaru of Fort Worth believe in making a positive impact on the communities in which we live and work. We uphold that belief through our Love Promise Community Commitment. Every month, we select inspiring stories from customers and partners from around our area who strive to support our collective commitment and feature them here
Botanical Research Institute of Texas - Lynn C
Thank you Hiley Subaru, our generous and caring sponsor of Prairie Day! Prairie Day is all about learning the cultural and natural history that defines our region through activities and games. BRIT wants to further educate the public on the importance of our natural resources and the region's native ecosystems, and how restoring native plants can benefit homeowners as well as wildlife.
---
Light the Night - Tori M
We can't thank Hiley Subaru enough for their support and sponsorship of the The Leukemia & Lymphoma Society Light the Night. It was a wonderful event and we couldn't do it without the support of local businesses like Hiley.
---
Hounds at Hawaiian Falls - Alex L
A big thank you to Hiley Subaru for sponsoring our annual Hounds at Hawaiian Falls event over the past few years which benefits MADE in Texas Assistance Dogs. We are a Texas-based organization that trains and places high caliber service dogs of all types to individuals with disabilities in order to help them gain greater independence.
---
Hiley Subaru Brings Warmth to Cook Children's - Meredyth H
Hiley Subaru brought smiles, warmth and creativity to Cook Children's patients and their families on June 26th. We are grateful for the amazing team that visited the medical center and provided an interactive patient event for patients and their families. The Hiley Subaru team handed out blankets, art kits and messages of hope and encouragement to our patients and their families. Thank you, Hiley Subaru!
---
Hiley Subaru Blanket Delivery 2019 - Renita S
The Leukemia and Lymphoma Society of North Texas had the amazing pleasure to partner together with Hiley Subaru on June 28 for their Subaru Loves to Care Program. As one of 8 neighborhood retailers, Hiley delivered 80 blankets to Cook's Children Health Care, while also conveying hope, warmth, and uplifting words of encouragement to those currently being treated and battling for their lives. Each blanket came along with a personal note of hope written by the customers and staff of Hiley that the patients absolutely loved reading. Cook's went above and beyond by creating a whole arts and crafts event based off the delivery. There were various stations set up with modeling clay, train sets and refreshments for the pediatric patients. Each patient was given a blanket and arts and crafts kit when they entered the event then proceeded to play at the stations. The delivery was a success to say the least. The Leukemia and Lymphoma Society of North Texas is beyond appreciative for the kindness and commitment of Hiley Subaru not only for our mission but also to those in our local community. Seeing the joy on patients' faces as the blankets were personally delivered was extremely rewarding and heartwarming. We are honored to collaborate with an organization that offers back to the absolute most meriting individuals and carries light to the darkness of a cancer diagnosis.
---
Out on the Back roads - Tara H
Every Monday, Wednesday, and Friday, Meals on Wheels' driver Maurice sets out at 10:00 am and gets back to the office at 3:00 pm after delivering our Johnson County Rural Route. This route goes to our most rural and isolated areas in Johnson County. He drives 98 miles roundtrip, averaging stops at 23 stops, checking on and delivering meals to just as many seniors that otherwise would not see anyone or have any contact with the outside world. Many times he does a little extra like picking up their newspapers, getting their mail from their mailboxes, delivering supplemental pet food, if needed for companion pets, and most of all making sure they are safe and secure in their own homes where they want to be. We couldn't do it without our Subaru Outback! Check out the latest pictures of our Outback in action out on the backroads!
---
Impact of Subaru Outback - Tara H
We've had our 2018 Outback for almost six months and have driven more than 6,570 miles delivering over 2,615 meals to seniors in the most rural and isolated areas of Johnson & Ellis counties. Although the value of this vehicle can be validated by statistics, the bigger story is the impact on the lives of those we are able to serve with the help of the Subaru Outback. In 2016, we began serving a sweet couple,Frank and Shirley. Frank is a Veteran that served his country proudly, but now has reached a point that he and his wife are dependent on Meals on Wheels for their lunch meals. That is over two years of meals, more than 1,040 meals and over 725 days that Frank and Shirley have been able to stay healthy and independent in their own home. Frank has PTSD, scoliosis in his neck, high blood pressure, Stage III kidney disease stage, short-term memory loss and Meals on Wheels help keeps him healthy and at home where he wants to be. Once a month, Frank and Shirley also receive AniMeals for their companion pet. So not only is our Outback used to deliver nutrition to seniors, but also to pets that receive supplemental pet food on our rural routes. We are proud of the real-world successes clients like and look forward to our next visit with them.
---
Santa Delivers Early - Tara H
Through a faithful, long-term partnership with Hiley Subaru and Meals on Wheels of Johnson & Ellis Counties, Santa arrived early this year! Meals on Wheels of Johnson & Ellis Counties unveiled the new 2018 Outback this holiday season. Meals on Wheels of Johnson and Ellis Counties Executive Director Christine Hockin-Boyd was so happy to see the clients' reactions to the new vehicle most of all. "The clients were so excited to see Santa and our new Subaru. We all giggled as some wanted their picture made with Santa while others 'oohed and aahed' in delight of the beautifully wrapped car. Several clients exclaimed how nice Subaru was to give the car to Meals on Wheels knowing how it would benefit us in serving our seniors." And Santa himself said, "I couldn't have given a better present myself." On average each month, MOWJEC drives almost 20,000 miles to deliver meals, and the donated 2018 Subaru Outback enables our staff to reach more seniors and serve more meals each month. But this allows us to be quicker and more efficient in our deliveries. Long range it's going to play into our hopes to add additional routes to serve more clients.
---
Hiley Subaru & LLS Bring Warmth to Cancer Patients - Alyssa W
On July 17, Hiley Subaru joined forces with The Leukemia & Lymphoma Society (LLS) of North Texas to deliver warmth and hope to patients battling cancer and Cook Children's Hospital in Fort Worth. This delivery was made extra special because the hospital allowed us to come during an ice cream social being held for the patients. When one patient received her blanket and craft kit she smiled and said, "Thank you so much. I love it here!" She had been admitted to the hospital just a few days before, and thanks to Subaru's love promise, she felt joy during a time of many uncertainties.Subaru supports the Leukemia & Lymphoma Society in their mission to cure leukemia, lymphoma, Hodgkin's disease, and myeloma, and to improve the quality of life of patients and their families. LLS and patients across the country thank Hiley Subaru for their generosity towards our community! Because of you, our patients feel supported through their treatment and in survivorship. Thank you, Hiley Subaru!
---
Subaru and NWF Loves the Earth - Megan S
So excited to get our schoolyard garden at Western Hills Primary School planted this fall
---