Open Today!

Service:

7am-6pm
Call us at: (817) 632-8800
Service Center in Fort Worth
Choose Hiley Subaru Service Center For Your Automotive Needs
Don't trust your vehicle maintenance and repairs with just any service team in the greater Dallas, TX area. There are a few things that set Hiley Subaru in Fort Worth apart from anyone else, especially if you own a Subaru. For starters, we have extensive knowledge of Subaru vehicles. We know what problems these cars are likely to face and the best ways to repair them. We have performed maintenance and repairs on countless new and used Subaru vehicles in Haltom City, so we know what it takes to get the job done.
In addition, our parts department only uses the best parts. When your car needs a new part, you don't want to wait around for it to arrive or settle for something of low quality. Our team will install the best parts in a short amount of time, giving you peace of mind over the repair.
To learn more about our maintenance and repair services, please contact Hiley Subaru today. We are always available to answer any questions you may have or to schedule a time for you to drop off your vehicle. We also have regular service specials to make things more affordable for you. So, whether you're looking to keep your car running well or want to address an issue you've been experiencing, Hiley Subaru in Fort Worth is here to assist drivers from Arlington, TX and beyond.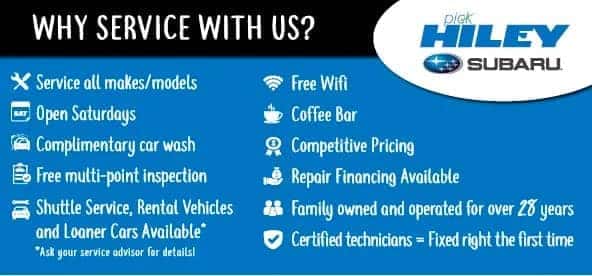 Mon - Sat

9:00 AM - 8:00 PM




Sun

Closed
Mon - Fri

7:00 AM - 6:00 PM




Sat

8:00 AM - 5:00 PM




Sun

Closed
Mon - Fri

7:00 AM - 6:00 PM




Sat

8:00 AM - 5:00 PM




Sun

Closed
Importance of Regular Car Maintenance
Performing regular car maintenance is one of the best things you can do for your vehicle. All vehicles need the occasional tune-up to ensure they continue to operate efficiently and safely. By taking your vehicle in for regular maintenance, you get some of the following benefits:
A Vehicle That Runs Longer
First, maintenance helps a vehicle last longer. This means it not only extends the total life of your car but makes it less likely to break down. Anyone who has had a car break down on the side of the road knows how inconvenient it is. With regular maintenance, you can make this less likely to occur. You can also extend the life of your car by several years or thousands of miles, putting off the need to buy another vehicle in the future. When the time does come to sell your vehicle, you want it to have as much value as possible. One of the biggest contributors to a car's value is how good of condition it is in. If you take good care of your vehicle throughout its life, it will be in better shape when it comes time to sell. This increase in value allows you to get more for it, which can be very helpful when you're looking to pay for your next vehicle.
Save Money Over Time
Regular maintenance also helps you save money over time. Even though you are paying for maintenance every few months, this is often cheaper than paying for repairs. In addition, it's much easier to plan financially for your maintenance costs than it is unexpected repair costs. This can prevent the need for taking out an expensive loan, which also saves you money in the long run. When you combine these cost savings with the improved value of your car, regular maintenance is one of the best financial decisions you can make related to vehicle ownership.
Our Services
Whether you want to have preventative maintenance done or you need some repairs, Hiley Subaru is here to help. Some of our car maintenance and repair services include:
Oil Changes
Every vehicle needs regular oil changes. Oil changes keep your engine running well, one of the most important components in your vehicle. Without regular oil changes, your engine can break down, with the result being very expensive repairs. Luckily, Hiley Subaru makes oil changes easy. Just schedule an appointment with our service center and we'll have you in and out in no time at all.
Brake Inspections and Repairs
Another important car maintenance task involves your brakes. It's essential that you regularly have your braking system checked to ensure the safety of you and all your passengers. Brake inspection includes checking the brake pads, the rotors, the brake lines, and the brake fluid level. Each plays a vital role and can wear down over time. If you hear any noises when you apply the brakes in your vehicle, or if the pedal feels soft under your foot, these are clear signs it's time for brake maintenance.
Other Car Maintenance Services
We also offer smaller maintenance services that you should consider having done at the same time as your brakes and oil changes. One example is your air filter, which needs to be replaced every few thousand miles to keep your engine running well. Besides that, you should also regularly replace your windshield wipers to ensure they can properly clean your windows in bad weather. Finally, it's a good idea to replace your spark plugs as they get older, as your car won't start if they begin to fail.
Major Vehicle Repairs
Hiley Subaru offers more than just vehicle maintenance services. Unfortunately, there may come a time when you need major repairs on your vehicle, despite how well you maintain it. When this time comes, the team at Hiley Subaru in Fort Worth is here to help. We can handle all sorts of major repairs, such as problems with your engine or transmission.
When you bring your vehicle to us, we'll first perform a complete inspection to determine the problem. Once we figure out the cause of the issue, we'll present you with repair options and an estimate of the total cost. You can then decide how to want to proceed. If you decide to get the repairs done, our team will get to work right away. Our goal is to complete your car repairs as quickly as possible, without sacrificing quality, so that you can get back on the road.