Service Specials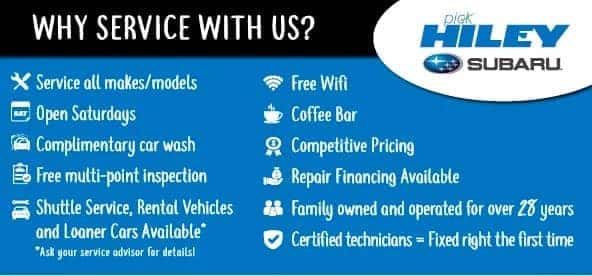 ---
We are currently updating our Specials. Please check back soon.
---
If you're looking for a new or used vehicle at the best price in Fort Worth, Texas, you've come to the right spot. At Hiley Subaru, we also offer special deals on service if your current car needs maintenance or repair. By taking advantage of our specials, you have a chance to save a lot on exciting new cars, SUVs, and trucks in our large collection, or on any services you might need.
Car Service Specials Near Dallas, TX
If you're anywhere near Fort Worth, Texas, Hiley Subaru offers a wide range of high-quality selections with deep discounts as well as special offers on our comprehensive services. Let's take a look at why you shouldn't pass up on dealership specials, as well as what's included in Hiley Subaru's car service specials and how to get the most out of them.
Do Car Service Specials Really Matter?
Short answer: absolutely! Everyone wants to get the most value for their money, so why not approach purchasing automobiles or auto services in the same way? We're always on the hunt for vehicle servicing specials and new discounts, giving our customers more chances to save.
Hiley Subaru Auto Service Specials
Fear not, if you are looking for auto service deals rather than getting a new vehicle, Hiley Subaru has you covered. Some of our most notable auto service specials include:
Financing for your most critical auto repairs.
Free battery inspections and multi-point inspections.
Complimentary car wash.
$99.95 four-wheel alignment.
$24.95 state vehicle inspections.
Tire Price Match Guarantee.
Tire Rotations at $24.95.
Our dealership offers free Wi-Fi, a coffee bar, and so much more, to improve the convenience and quality of your visit. Get the expert auto service you need from a dealership with all the advantages. Our certified technicians get it right the first time, and we provide vehicle repair services for all makes and models, not Subaru alone. We provide shuttle service, loaner cars, and direct automotive rentals to serve all sorts of drivers visiting or living around Dallas.
Car Sales Specials
Here are a few auto sales specials to keep in mind while shopping:
Year-End Sales: Whether a car is the latest model year has a significant impact on its value. Dealers are further motivated to sell what they have during this time to make room for whatever is coming next, and dealerships offer significant discounts on new and pre-owned vehicles in December or around the start of fall or winter holidays. For those who want the best deal on a current-year model, shopping for a car during this time is a wise move, if feasible.
Other Holiday Months: During specific months of the year, car manufacturers offer large discounts on their products. Outside of the holiday season, loosely running from September through mid-January or any time where a major holiday is occurring likely will inspire discounts and specials at nearby dealerships. Consider major local events in Dallas or Fort Worth, as well. Nearby dealers may use a popular event as the subject of a sales special.
Corporate Discounts: If you work for a major corporation, ask if you can possibly add a corporate discount from the dealer, before signing. Any significantly large dealer will have a list of companies and organizations whose employees are eligible for a corporate discount, which can range from 1% to 5% of the total purchase price.
Loyalty Incentive: If you stick with your current car brand, you could be eligible for a loyalty bonus by a dealership who sells that brand. Not all manufacturers provide a loyalty program, as it depends on their level of specialization versus diversity of manufacturers; but there's no harm in inquiring about it and taking advantage of it if available.
Finance and Insurance Discount: Apart from discounts on vehicle price, you can also bargain with the dealership for a cheaper rate on the loan for the vehicle in question. We suggest getting a quote so you know what's realistic and work from there. A variety of financial calculators are accessible online to help you compare various loan and leasing schemes. You may also negotiate for a discount on your coverage, since it often benefits the dealership as well.
Car Leasing Specials In Fort Worth, TX
One worthwhile money-saving opportunity many drivers still don't know about or understand fully is an auto lease. Leasing means agreeing to a term of ownership while making monthly payments and then giving the vehicle back at the end of the lease.
By leasing a Subaru or other high-quality vehicle, you may drive away in something that would've been too expensive to buy directly. This all comes without the stress of owning the vehicle and taking care of it indefinitely. Dealerships will often offer lease deals with a zero or near-zero down payment. You can also find deals on the lease payment which makes leasing a car even more affordable. All you have to do is make the same agreed-upon monthly payment for each month of the lease length.
The business that owns the car is responsible for its upkeep when you lease it. You will not be charged for basic car maintenance and repairs, as that will be factored into the lease deal, although this will generally not apply to accidents or damage due to negligence. The pay-per-use approach of car leasing means you only pay for the time you use the vehicle, so for those who prefer to switch to newer cars more often, the advantages are clear.
Hiley Subaru has over 28 years of treasured experience serving customers. We provide a large range of new and used automobiles for sale or lease, as well as top-class automotive care and friendly customer service! For your next new or certified pre-owned vehicle, or to take advantage of the best service specials in town, come see us at Hiley Subaru.