Service Specials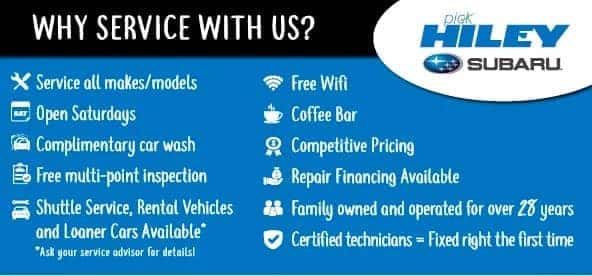 ---
We are currently updating our Specials. Please check back soon.
---
If you're looking for a new or used vehicle at the best price in Fort Worth, Texas, you've come to the right spot. At Hiley Subaru, we also offer special deals on service if your current car needs maintenance or repair. By taking advantage of our specials, you have a chance to save a lot on exciting new cars, SUVs, and trucks in our large collection, or on any services you might need.
Vehicle Service Specials Near Dallas, TX
If you're anywhere near Fort Worth, Texas, Hiley Subaru offers a wide range of high-quality selections with deep discounts as well as special offers on our comprehensive services. Let's take a look at why you shouldn't pass up on dealership specials, as well as what's included in Hiley Subaru's car service specials and how to get the most out of them.
Even the highest quality vehicles need regular care to maintain optimum performance. That's why we recommend going to a certified dealership for all your repair and maintenance needs. Subaru owners already know that their vehicles are among the best on the road. At Hiley Subaru of Fort Worth, Texas, everyone working on your vehicle knows it, too.
Our service center is thoroughly sanitized, as is every vehicle that comes through the garage. While your car is getting top-notch service, you can enjoy using a convenient loaner vehicle or relaxing in our animal-friendly waiting area. We streamline every aspect of car care, which is just one of the many reasons you should bring your Subaru to us.
Do Vehicles Service Specials Matter?
Short answer: absolutely! Everyone wants to get the most value for their money, so why not approach purchasing automobiles or auto services in the same way? We're always on the hunt for vehicle servicing specials and new discounts, giving our customers more chances to save.
Hiley Subaru Auto Service Specials
Fear not, if you are looking for auto service deals rather than getting a new vehicle, Hiley Subaru has you covered. Some of our most notable auto service specials include:
Financing for your most critical auto repairs.
Free battery inspections and multi-point inspections.
Complimentary car wash.
$99.95 four-wheel alignment.
$24.95 state vehicle inspections.
Tire Price Match Guarantee.
Tire Rotations at $24.95.
Our dealership offers free Wi-Fi, a coffee bar, and so much more, to improve the convenience and quality of your visit. Get the expert auto service you need from a dealership with all the advantages. Our certified technicians get it right the first time, and we provide vehicle repair services for all makes and models, not Subaru alone. We provide shuttle service, loaner cars, and direct automotive rentals to serve all sorts of drivers visiting or living around Dallas.
Car Sales Specials
Here are a few auto sales specials to keep in mind while shopping:
Year-End Sales: Whether a car is the latest model year has a significant impact on its value. Dealers are further motivated to sell what they have during this time to make room for whatever is coming next, and dealerships offer significant discounts on new and pre-owned vehicles in December or around the start of fall or winter holidays. For those who want the best deal on a current-year model, shopping for a car during this time is a wise move, if feasible.
Other Holiday Months: During specific months of the year, car manufacturers offer large discounts on their products. Outside of the holiday season, loosely running from September through mid-January or any time where a major holiday is occurring likely will inspire discounts and specials at nearby dealerships. Consider major local events in Dallas or Fort Worth, as well. Nearby dealers may use a popular event as the subject of a sales special.
Corporate Discounts: If you work for a major corporation, ask if you can possibly add a corporate discount from the dealer, before signing. Any significantly large dealer will have a list of companies and organizations whose employees are eligible for a corporate discount, which can range from 1% to 5% of the total purchase price.
Loyalty Incentive: If you stick with your current car brand, you could be eligible for a loyalty bonus by a dealership who sells that brand. Not all manufacturers provide a loyalty program, as it depends on their level of specialization versus diversity of manufacturers; but there's no harm in inquiring about it and taking advantage of it if available.
Finance and Insurance Discount: Apart from discounts on vehicle price, you can also bargain with the dealership for a cheaper rate on the loan for the vehicle in question. We suggest getting a quote so you know what's realistic and work from there. A variety of financial calculators are accessible online to help you compare various loan and leasing schemes. You may also negotiate for a discount on your coverage, since it often benefits the dealership as well.
Genuine OEM Subaru Parts In Fort Worth, TX
When you have parts replaced in your vehicle, you can choose original equipment manufacturer (OEM) or aftermarket products. OEM parts are identical to the parts that your Subaru came with. They've been precision engineered specifically for your make and model. On the other hand, aftermarket parts come from a third-party manufacturer that isn't directly associated with Subaru. At Hiley Subaru of Fort Worth, we work exclusively with OEM parts to make sure you always get the quality and reliability that you deserve from your Subaru.
We maintain a full stock of OEM parts so you can get what you need quickly and efficiently. We even sell OEM parts directly to consumers so you can still enjoy the benefits of these genuine Subaru parts even if you're attempting a DIY job. Buying OEM products directly from our parts department is the most affordable way to access what you need.
We also provide OEM accessories to help you upgrade your vehicle. Genuine Subaru accessories undergo extensive testing to ensure proper strength and chemical and vibration resistance. Subaru engineers put these parts through certified lab trials, environmental testing, computer simulations, and more. OEM parts stand head and shoulders above their aftermarket counterparts, which is why OEM is all that you'll get with our Subaru service.
Specialized Subaru Tools
In our service center at Hiley Subaru of Fort Worth, you'll find only OEM Subaru tools designed exclusively for Subaru vehicles. Unlike other shops that may use aftermarket tools and cater to a wide variety of vehicles, we tailor everything in our facility to the vehicle manufacturer that you love most. This allows us to deliver superior results and outstanding efficiency with every service.
Because our services are specialized for Subaru vehicles, we can complete jobs more quickly. Our shop is always set up for your Subaru, with all the right equipment on hand for an expert diagnosis, reliable repair, or high-quality maintenance visit.
Subaru-Certified Technicians
You want to know that your vehicle is in good hands, which is why we hold our technicians to the highest standards. Every member of our factory-trained team carries certification from Subaru of America, Inc. Our technicians go through in-depth training programs taught by Subaru technical instructors to prepare them for the distinctive components and onboard systems found in Subaru vehicles. Subaru technicians receive training on:
Subaru Boxer engines.

Subaru Starlink systems.

Subaru EyeSight driver-assist technology.

Symmetrical all-wheel-drive systems.
Our technicians update their training annually to ensure they know about all the latest developments and enhancements in the Subaru lineup.
We also employ Subaru Master Technicians. These professionals have put in at least five years as Subaru technicians. They carry Subaru Specific Certification for the engine, transmission, emissions, brakes, electrical systems, chassis, and suspension. To become a Subaru Master Technician, you must complete the entire Subaru technical curriculum, including both instructor-led and self-study courses. These master technicians also maintain at least eight Automotive Service Excellence certifications.
When you choose Subaru service, you get the very best technical expertise for your vehicle. Our professionals work with nothing else.
Proper Care for Your Subaru Boxer Engine
Every Subaru vehicle comes equipped with the automaker's standard Boxer engine, which is one of the many things that sets a Subaru apart from the pack. The Boxer engine features a flat design that allows it to sit lower in the engine compartment, giving the vehicle a lower center of gravity and better aerodynamics. This makes a Subaru less likely to roll, as the engine provides superior stability and incredible balance.
The pistons in the Boxer engine have a symmetrical formation around the crankshaft, which helps minimize vibrations to deliver a smooth driving experience. The Boxer engine comes in both four-cylinder and six-cylinder models. The engine's unique design necessitates the use of particular transmissions. The Lineartronic is one of the most popular choices, providing intelligent gear ratio selection and optimal fuel efficiency.
With such outstanding technology tucked under the hood, you'll want to prioritize skilled care for your Subaru. When you choose a Subaru dealership, you can rest assured that the technicians working on your vehicle spend their time working exclusively with Boxer engines and Subaru designs. They won't find anything unusual about the distinctive setup in your vehicle. In fact, they're trained to optimize that very technology and provide you with the best results possible from every repair and maintenance visit.
Subaru-Specific Knowledge
Vehicle maintenance and repairs aren't something that should involve a lot of guesswork. That's why it's best to go to a Subaru dealership where the technicians understand your vehicle thoroughly. If you're in an accident, we can help you understand your auto coverage terms, deliver a detailed repair estimate, and explain the importance of using genuine Subaru collision parts.
When it comes to maintenance, we have your vehicle's schedule carefully compiled and ready to go. You can even look up your maintenance schedule online to learn everything you need to know before your next appointment. We strive to make it as easy as possible to give your Subaru the care and attention it needs.
Whether you're due for maintenance or need repairs, our dedicated team of highly trained technicians can help. Schedule your appointment with Hiley Subaru of Fort Worth and find out first-hand why we're the best option for your car care needs.
Car Leasing Specials In Fort Worth, TX
One worthwhile money-saving opportunity many drivers still don't know about or understand fully is an auto lease. Leasing means agreeing to a term of ownership while making monthly payments and then giving the vehicle back at the end of the lease.
By leasing a Subaru or other high-quality vehicle, you may drive away in something that would've been too expensive to buy directly. This all comes without the stress of owning the vehicle and taking care of it indefinitely. Dealerships will often offer lease deals with a zero or near-zero down payment. You can also find deals on the lease payment which makes leasing a car even more affordable. All you have to do is make the same agreed-upon monthly payment for each month of the lease length.
The business that owns the car is responsible for its upkeep when you lease it. You will not be charged for basic car maintenance and repairs, as that will be factored into the lease deal, although this will generally not apply to accidents or damage due to negligence. The pay-per-use approach of car leasing means you only pay for the time you use the vehicle, so for those who prefer to switch to newer cars more often, the advantages are clear.
Hiley Subaru has over 28 years of treasured experience serving customers. We provide a large range of new and used automobiles for sale or lease, as well as top-class automotive care and friendly customer service! For your next new or certified pre-owned vehicle, or to take advantage of the best service specials in town, come see us at Hiley Subaru.